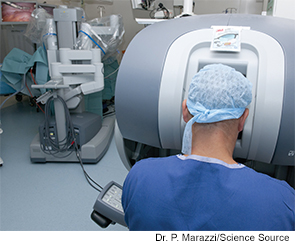 Treatment of oropharyngeal cancers, which has seen major changes over the years, may be on the brink of yet another development. The newest treatment option on the block is tumor removal using state-of-the-art robotic technology. Several factors have played into the trend, one of which is the availability of the daVinci robotic surgical system (Intuitive Surgical, Sunnyvale, Calif.) at hospitals, because the technology has become useful to other departments, such as urology and thoracic surgery. Equally important, though, is the changing nature of oropharyngeal cancers.
The Rise of HPV
Oropharyngeal cancers caused by human papillomavirus (HPV) infections are on the rise. A 2011 study analyzed tumors collected by three cancer registry sites for traces of HPV infection and then projected those findings onto the U.S. population. Their results found an incidence rate of 0.8 HPV-positive oropharyngeal cancers per 100,000 in 1984. By 2004, that rate had more than tripled to 2.6 per 100,000 (J Clin Oncol. 2011;29:4294-4301).
If this trend continues, the number of new HPV-positive oropharyngeal cancers will surpass the numbers for cervical cancer by the year 2020. Yet, public awareness of tonsil and tongue cancers has not kept pace. News stories about vaccination against HPV still focus heavily on the prevention of cervical cancers in women. If and when vaccination is widely adopted in boys and girls in the U.S, we might expect to blunt the rise in cases—at least a couple of decades from now.
Why HPV-associated oropharyngeal cancers are on the rise is not entirely clear, though increased exposure undoubtedly plays a part. The virus is transmitted via physical contact, and sexual transmission is thought to be the primary mode of exposure. The viral strain in tonsil and tongue cancers is the same as in cervical cancer, HPV-16. And, as is the case with cervical disease, a vast majority of people exposed to HPV manage to clear the virus from their bodies. For a small minority, the virus is incorporated into DNA, which leads to squamous carcinoma.
Meanwhile, HPV-negative oropharyngeal cancers have declined by 50% (from two per 100,000 to one per 100,000) over the same time period. Head and neck surgeons have noticed the rise in HPV-associated cancers, and many say that these cases dominate their practices.
While HPV-positive and HPV-negative oropharyngeal tumors are both squamous carcinomas, there are important differences that can influence choice of treatment. "HPV-related cancers are characteristically smaller primary tumors," said Robert Ferris, MD, PhD, chief of head and neck surgery at the University of Pittsburgh Medical Center. "They're easier to get at and are more resectable, and they also have a dramatically better prognosis, so the morbidity of therapy is much more important to consider."