However, it is probably one of the most important clinical exams that should be included in the evaluation of every patient with complaints of vertigo. Far and away, the most common cause of vertigo is BPPV. If you don't look for it, you won't find it.
Types of Vestibular Function Tests
Tests that can be performed in the general otolaryngology clinic
Tullio response test
Pressure response test
Dix-Halpike maneuver
Head impulse test
Head shake test
Dynamic visual acuity test
Electronystagmography (ENG)
Videonystagmography (VNG)
Fresnel lens test
Gait test
Step test
Caloric test
Tests that are typically performed in referral clinics
Rotary chair test
Epley Omniax chair
Posturography
Vestibular evoked myogenic potential (VEMP)
Subjective visual vertical test (SVVT)
Other Office-Based Tests
Several other tests involve technique but not technology, Dr. Soileau said. These include the gait test and the step test. The gait test involves the patient standing initially with feet together and eyes closed. The clinician then observes the patient walking down the hall and making turns to see whether the patient is more coordinated when turning to the right or left.
With the step test, the patient walks in place with eyes closed and the clinician watches to see whether there is any drift to one side or the other, which would indicate a unilateral reduction of vestibular function.
The caloric test, which involves putting hot and cold fluid sequentially in each ear, helps the clinician to localize the ear that is implicated in the patient's balance problems. It only tests the lateral canal, Dr. Goebel said. When highly positive, with very different results for one ear versus the other, it's very useful. A colder stimulus should be used if the change is the same on each side with cold water. If the study is with cold water, the patient should be referred for a rotary chair test.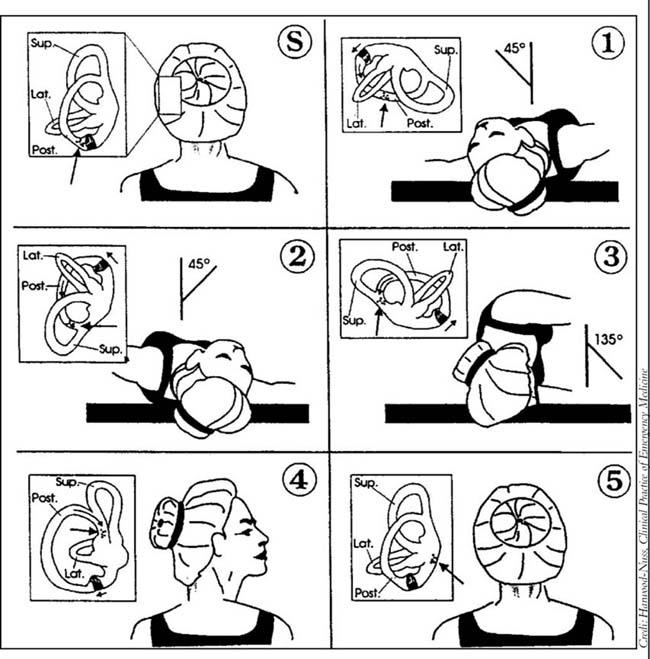 click for large version
Figure. Epley Maneuver. This chart shows the positioning sequence for the left posterior semicircular canal as viewed by the physician (behind the patient). The inset boxes picture an exposed view of labyrinth, showing migration of particles (large arrow).(S) Start: patient is seated, oscillator is applied. (1) Place head over end of table, 45 degrees to left. (2) Keeping head tilted downward, rotate to 45 degrees right. (3) Rotate head and body until facing downward 135 degrees from supine. (4) Keeping head turned right, bring patient to sitting position. (5) Turn head forward, chin down 20 degrees. Pause at each position until induced nystagmus approaches termination, or for T (latency + duration) seconds if there is no nystagmus. Keep repeating the entire series (1-5) until there is no nystagmus in any position.
Limitations
Dr. Goebel noted that conventional vestibular tests miss two types of dizzy people. Those include migraine-related dizziness, who have normal test results but whose dizziness is triggered by photophobia, and those whose dizziness is triggered by loud sounds. However, with astute testing, these diagnoses can be teased out, he said.