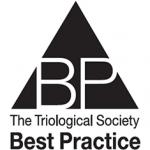 TRIO Best Practice articles are brief, structured reviews designed to provide the busy clinician with a handy outline and reference for day-to-day clinical decision making. The ENTtoday summaries below include the Background and Best Practice sections of the original article. To view the complete Laryngoscope articles free of charge, visit Laryngoscope.
Background
The diagnostic criteria of chronic rhinosinusitis (CRS) have continued to evolve over the years. Initial recommendations were established using duration of clinical symptoms but mounting evidence has shown the importance of including objective findings to substantially increase the diagnostic specificity and positive predictive value of CRS. International consensus statements recommend the objective validation of a symptom-based diagnosis of CRS, giving the option of nasal endoscopy or computed tomography (CT) (Int Forum Allergy Rhinol. 2016;6:S22-S209). Should one chose CT as the objective confirmation, there are questions about the optimal timing of the CT. Historically, it has been recommended that CRS should first be medically managed with CTs typically obtained following failure of initial medical therapy. This practice has become so widespread that some payors require evidence of failed medical therapy prior to authorizing reimbursement for CT imaging. Because CRS has so many symptomatic mimics, this approach can lead to increased unnecessary medical treatments with antibiotic and steroid overuse, increase of associated side effects, and delay in proper treatment of a non-CRS diagnosis. Upfront CT scans would increase the diagnostic accuracy of CRS, but with added risk of increased radiation exposure. This raises the question of which intervention should come first: medical therapy or CT imaging.
Best Practice
In patients with suspected CRS based on symptoms but with normal endoscopic findings, an upfront CT scan is a viable option prior to initiating empiric medical therapy. Upfront CT leads to decreased unnecessary medical treatments as well as lower healthcare associated costs. The primary concern of increased radiation exposure can be obviated by use of CBCT or low-dose multidetector CT (MDCT) while providing similar diagnostic imaging quality to normal MDCT.