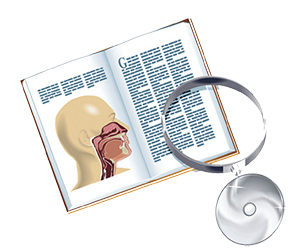 Background
Chronic rhinosinusitis (CRS) is one of the most common chronic conditions in the United States, but clinical diagnostic criteria remain controversial. Nasal endoscopy is frequently employed
by otolaryngologists in cases of suspected CRS. Although endoscopy allows visualization of pathology that may provide objective evidence for the diagnosis of CRS in the posterior nasal cavity, nasopharynx, and the middle and superior meati that would not be visible on anterior rhinoscopy, its appropriate role in the evaluation of CRS has been the subject of controversy.
In 2007, the American Academy of Otolaryngology–Head and Neck Surgery (AAO-HNS) published guidelines for diagnosis of CRS that utilize a combination of symptom criteria and objective findings. A positive diagnosis was defined as 12 weeks or longer of two or more of the following signs and symptoms: mucopurulent drainage; nasal obstruction; facial pain, pressure, or fullness; or decreased sense of smell. In addition, an objective measure, such as evidence on nasal endoscopy of nasal polyps or purulent mucus in the middle meatus or ethmoid region, or radiographic evidence of paranasal sinus inflammation are also recommended. Given the high utilization rate and availability of computed tomography (CT) for CRS diagnosis, these guideline criteria designated nasal endoscopy as an optional diagnostic measure. Although endoscopic findings are frequently used to support a diagnosis of CRS, the true diagnostic value of nasal endoscopy in diagnosing CRS has not been clearly defined.
Best Practice
Nasal endoscopy enhances the sinonasal evaluation by allowing visualization of anatomy that is not possible with anterior rhinoscopy. It produces a closer inspection of the involved areas, as well as the opportunity for directed culture or biopsy. When compared with CT results, nasal endoscopy alone does not have a high enough sensitivity to rule out CRS. However, even though the definition of CRS on endoscopy has varied in different studies, the modality has demonstrated a high specificity in identifying CRS. Endoscopy is especially valuable in individuals with symptoms consistent with CRS, and the combination of symptom criteria and positive findings on nasal endoscopy has a high diagnostic accuracy. Although the evidence is somewhat limited, in select individuals with positive symptom criteria combined with an endoscopic confirmation of CRS, a confident diagnosis of CRS may be made without additional imaging. This may then allow for initiation of medical management of CRS for example, thereby sparing patients the cost and radiation exposure of CT, particularly for those who respond therapeutically,. Future studies are needed to further investigate the accuracy of endoscopy in combination with symptom-based criteria in diagnosing CRS. Read the full article in The Laryngoscope.