After being invited by the Vietnamese otolaryngologists, several otolaryngologists in the United States went as an initial team to Vietnam in April 1996, under the leadership of Jack Hough, MD, who founded the Hough Ear Institute in Oklahoma City, Okla. The goal was to send a team from the United States for two weeks every year to provide training. We now have three teams that work in the teaching hospitals, Dr. Bailey said. He recently completed his eleventh trip. We have distributed copies of the three main journals. The Laryngoscope is going to five or six centers in Vietnam. Teaching videos, slide sets, and instruction manuals are free of charge.
Brent Senior, MD, and David Parsons, MD, now organize the visits. Dr. Senior is Associate Professor of Otolaryngology- Head and Neck Surgery at the University of North Carolina in Chapel Hill, and Dr. Parsons is in private practice in Greenville, SC.
Bringing Dramatic Changes
There have been dramatic changes since our first visit, Dr. Bailey said. When we first went, patients were getting the care that patients in the United States got in the 1940s. Now they've moved up to the 1980s in areas that aren't high-tech. They were cleaning and re-using surgical gloves many times, even when they had holes. On the first trip, there were no electronic monitors in the recovery rooms, just beds with nurses observing the patients. In some of the hospitals, patients were wheeled out of the operating room and out in the hall to recover. That's quite a bit different now, far better.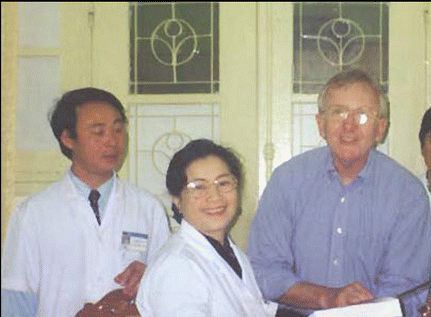 click for large version
Figure. The visiting otolaryngologists have helped to provide the Vietnam hospitals with teaching materials, like the book Dr. Bailey is holding.
On the first visit, the otolaryngology team perused the medical libraries and saw that the most recent journals had been published in 1970. Several major hospitals now have modern libraries, hold grand rounds, offer lectures, and have faculty conducting original research.
I know from what the otolaryngologists have said that our visits have greatly improved their concept of teaching, Dr. Bailey said. They have a lot more equipment that they wouldn't have had to work with otherwise. The visiting teams have donated much of the equipment. They say our interest in them has given them a lot of hope that people in other countries care about them.
The changes in the practice of otolaryngology have occurred within the context of overall changes in Vietnam, Dr. Bailey said. When we first went, almost all the traffic was bicycles in the north, he said. It's now motorbikes and cars.