The otolaryngologist discusses a decade of educational visits to Vietnam and Cuba
In the world of humanitarian efforts, giving money is relatively easy. Time can be a precious commodity, especially when it involves traveling to distant places, jet-lag, and culture shock. Yet this is exactly the gift that Byron J. Bailey, MD, has given repeatedly over the last 10 years in visits to Vietnam and, more recently, to Cuba.
In a recent phone interview, Dr. Bailey discussed his visits, in which he and the members of the teams accompanying him have provided training to the otolaryngologists of those countries. Dr. Bailey is the Chairman Emeritus of Otolaryngology at the University of Texas Medical Branch in Galveston. In 2003 the Texas State Legislature honored him for these humanitarian visits.
Building Relationships, Improving Resources
The organization that sponsors the trips is Resource Exchange International (REI), and Dr. Bailey serves on the organization's board of directors. Two branches of REI, REI-Vietnam and REI-Cuba, coordinate the respective activities. REI's underlying philosophy is to build relationships that will help the people in the visited country continue the work of improving their resources. (For more information, visit www.reiinc.org .)
I had never done anything like this, and I thought I'd probably go one time and that would be it, he said. He has visited Vietnam 11 times and Cuba six times. I saw physicians working hard to do everything they could in very primitive circumstances. It wasn't something I could walk away from and never go back and do something about. In reflecting on all that, it just seemed appropriate to try to make a contribution. I think that's what people are put here for.
He urges his fellow otolaryngologists to get involved in similar efforts, whether or not they involve travel abroad. I would urge people to get involved in activities like this for what it will do for [them] as well as what [they] will do for others, he stressed.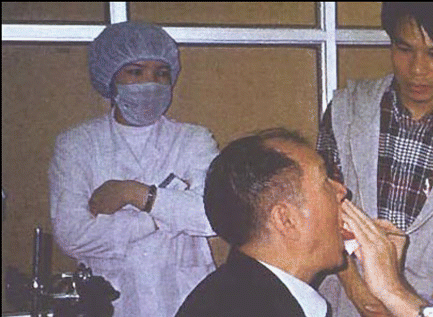 click for large version
Figure. Dr. Bailey (right) has visited Vietnam 11 times to share his professional knowledge with otolaryngologists there.
Education in Vietnam
In an editorial that was published in The Laryngoscope in 1997 (107(9):1153-1155), Dr. Bailey set out several goals for improving the practice of otolaryngology in Vietnam. We have far exceeded those goals. We were trying to help modernize the patient care training programs in our specialty in Vietnam, he said. We made our home study course available to the Vietnamese without charge. We asked them to identify some who would be leaders for three to six months at a time. We had over 30 of those faculty come to the United States and stay in our homes. They trained in our hospitals in the day and studied in the evening.