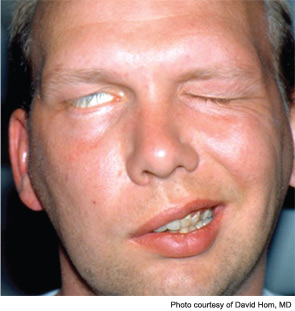 Figure 1. Pre-operative photo of a 29-year-old patient. The patient had a gold weight, lower eyelid tightening (tarsal strip), great auricular cable nerve graft (from the mid-vertical segment of VII to upper and lower division VII nerve) and fascia lata sling.
Whatever the initial injury—stroke, Bell's palsy or Ramsay Hunt syndrome, sacrifice of the nerve during tumor resection or traumatic injury—facial paralysis is often psychologically devastating to patients.
Despite an ever-increasing armamentarium of treatment approaches, misconceptions about treatment options and prognoses still exist, said Babak Azizzadeh, MD, FACS, director of the Facial Paralysis Institute in Beverly Hills, Calif. He vividly recalls seeing one patient who had suffered facial paralysis for almost a year, a man whose primary care physician had told him that there was "nothing we can do."
Otolaryngologists who specialize in diagnosing and treating facial paralysis would like to combat that attitude. Advances in minimally invasive treatment and multidisciplinary approaches to this condition have resulted in restoration of symmetry and function, as well as better quality of life, for those affected.