"Getting the nerve to function normally is by far the best indicator of overall good facial mimetic musculature outcome," said Dr. Samy. In the case of a subset of patients with Bell's palsy, the data indicate that, ideally, facial nerve decompression via the middle fossa route should be done within 10 to 14 days to ensure the best nerve function for those who meet electrophysiologic criteria using ENoG and EMG (Laryngoscope. 1999;109(8):1177-1788).
"Synkinesis, or aberrant nerve regeneration, is probably the biggest issue for patients who do not have complete resolution of Bell's palsy," said Dr. Azizzadeh. Treating the contralateral side with Botox benefits these patients and the 15 percent of Bell's palsy patients whose symptoms do not completely resolve, said Dr. Samy. Injecting Botox into the contralateral side to weaken the muscles and achieve symmetry must begin with the smallest dose possible, Dr. Azizzadeh advised. "You are injecting muscles, such as the buccinators, that are not the ones commonly injected for cosmetic reasons. So there is an art to this, and Botox does not behave in every patient in the same way." Dr. Hom agreed: "As with other treatments, you have to tailor the dose to each patient. Give minute strengths to the target antagonistic muscles to try to get a balanced face." After the first injection, Dr. Hom's patients return in three weeks, and then at three- to six-month intervals, for additional injections.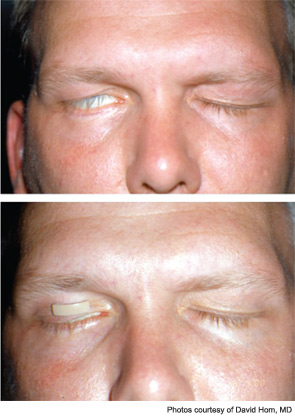 Figure 2. Various gold weight templates are used to determine the optimal size needed to improve eyelid closure.
Reanimating Facial Nerves and Muscles
If the facial nerve does not begin to function with time or has been sacrificed as part of another procedure, treatment strategies should be tailored to the patient's circumstances, based on time of nerve injury, state of health, age and functional goals, Dr. Hom said. Travis T. Tollefson, MD, FACS, associate professor in the department of otolaryngology at the University of California-Davis Medical Center in Sacramento, Calif., agreed that a patient-centered approach is key. With head and neck cancer surgery patients likely to have facial nerve sequelae, Dr. Tollefson's approach is to start conversations about options early. He begins with incremental treatments, such as brow lifting or eyelid loading with gold or platinum, to allow patients to become acclimated to procedures.
If prolonged recovery is anticipated or if permanent paralysis is present in the upper face, Dr. Hom considers either low profile gold or platinum weights to restore the blink response. The procedure, first pioneered by Mark May in the 1990s, revolutionized treatment for the paralyzed eyelid (Arch Otolaryngol Head Neck Surg. 1987:113(6):656-660). Before that time, a lateral tarsorrhaphy was the most common technique for permanent protection of the eye. This method impaired the visual field on the lateral gaze, did not give complete eyelid coverage and was not cosmetically attractive. When extensive oncological resection surgery is required, Dr. Hom prefers to wait until the post-surgical swelling has abated to fit his patients with the eyelid weights, although other surgeons may place the weights as part of a respective procedure. He chooses the weights, which range from 0.6 to 2.8 grams, in the clinic, allowing him to tailor them for each patient. In addition, a lower eyelid tightening procedure and a direct brow lift can be beneficial. All of the upper facial procedures can be performed as outpatient procedures, under local anesthesia with intravenous sedation.