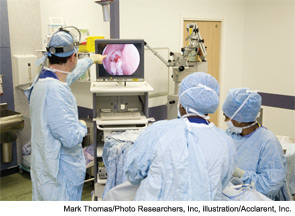 Six years after balloon sinuplasty was introduced to the otolaryngology community, it remains an evolving technology. "In my opinion, balloon dilatation has great potential, but it's still trying to find its proper place in the ENT arena," said Ralph Metson, MD, clinical professor of otology and laryngology at Harvard Medical School and Massachusetts Eye and Ear Infirmary in Boston.
Balloon sinuplasty, sometimes also called balloon catheter dilatation, was originally envisioned as a less invasive alternative to endoscopic sinus surgery for patients who had failed to find relief with medical management of chronic rhinosinusitis. Few studies, though, have compared the two procedures. A recent Cochrane review found just one unpublished study that randomized 34 patients to either balloon dilatation or functional endoscopic sinus surgery (FESS). The review authors concluded that "at present, there is no convincing evidence supporting the use of endoscopic balloon sinus ostial dilation compared to conventional surgical modalities" (Cochrane Database Syst Rev. 2011;6(7):CD00851).
Otolaryngologists around the country, however, are finding balloon sinuplasty to be a useful adjunct to FESS. The procedure also appears to have found a role in the treatment of chronic rhinosinusitis in children.
Functions and Limitations
Multiple studies have proven the safety of the technique, which was approved by the U.S. Food and Drug Administration in 2005 (Ann Otol Rhinol Laryngol. 2006;115:293-299; Otolaryngol Head Neck Surg. 2007;137:10-20; Am J Rhinol. 2008;22:204-209). Short-term follow-up has demonstrated good results as well. Recent uncontrolled retrospective and prospective studies have shown sinus patency and improved quality of life scores up to two years after balloon sinuplasty (Postgrad Med. 2011;123(2):112-118). Long-term efficacy is not available because the technique is still rather new.
To date, balloon sinuplasty seems to be most useful for dilating the frontal sinus ostia. "Many surgeons are using balloon technology as their main way to enter the frontal sinus," said Michael Setzen, MD, president of the American Rhinologic Society. "The nasofrontal recess sometimes can be quite difficult to find and to enlarge. When we use a wire with a light on the end, we know we're in the sinus and then we can pass our balloon over that wire and dilate the nasofrontal sinus."
Balloon catheter technology is also approved for use in the maxillary and sphenoid sinuses; it is not for use in the ethmoid sinus. "If a patient has ethmoid disease, you're going to have to use some other tools to treat that," said Kevin McLaughlin, MD, assistant clinical professor of rhinology, sleep medicine and sinus surgery at Louisiana State University Health Sciences Center in New Orleans.