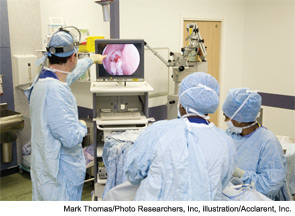 Six years after balloon sinuplasty was introduced to the otolaryngology community, it remains an evolving technology. "In my opinion, balloon dilatation has great potential, but it's still trying to find its proper place in the ENT arena," said Ralph Metson, MD, clinical professor of otology and laryngology at Harvard Medical School and Massachusetts Eye and Ear Infirmary in Boston.
Balloon sinuplasty, sometimes also called balloon catheter dilatation, was originally envisioned as a less invasive alternative to endoscopic sinus surgery for patients who had failed to find relief with medical management of chronic rhinosinusitis. Few studies, though, have compared the two procedures. A recent Cochrane review found just one unpublished study that randomized 34 patients to either balloon dilatation or functional endoscopic sinus surgery (FESS). The review authors concluded that "at present, there is no convincing evidence supporting the use of endoscopic balloon sinus ostial dilation compared to conventional surgical modalities" (Cochrane Database Syst Rev. 2011;6(7):CD00851).
Otolaryngologists around the country, however, are finding balloon sinuplasty to be a useful adjunct to FESS. The procedure also appears to have found a role in the treatment of chronic rhinosinusitis in children.