A Cure—or an Adjunct?
Despite the early hype suggesting that balloon sinuplasty might be an alternative to sinus surgery for some patients, most otolaryngologists are use the balloon in conjunction with functional endoscopic sinus surgery.
"I perceive the balloon as a tool that we have at our disposal to treat the sinuses," said Dr. McLaughlin, who often combines balloon sinuplasty with FESS. Dr. Setzen also performs hybrid procedures.
"There are times when one may just want to dilate one sinus, say a frontal sinus, but yet do traditional work on, say, the other frontal and/or maxillary sinus," Dr. Setzen said. "You may also use the technology to enter a sinus and then utilize traditional surgery to further enlarge the opening of that sinus once the technology has helped you find the opening."
David Kennedy, MD, professor of rhinology at the University of Pennsylvania School of Medicine in Philadelphia and an early innovator in the field of sinus surgery for chronic rhinosinusitis, is concerned that balloon sinuplasty may not address the underlying issues of sinusitis and, therefore, may not lead to the cure that many patients expect.
"Resolving chronic sinusitis is not just a matter of drainage," Dr. Kennedy said. "If it was a simple plumbing problem, we wouldn't have so much chronic sinusitis around. Just opening up the sinus is rarely a solution to resolving well-established surgical disease."
Dr. Kennedy and others now believe that inflammation of the bone contributes to chronic sinusitis, and hypothesize that just moving the bone aside with a balloon may lead to continued difficulty. Therefore, Dr. Kennedy suggests removing the bone fragments, although no studies have tested the efficacy of this approach.
"The balloon provides a very easy and relatively atraumatic way of fracturing the bony partitions in the sinuses," Dr. Kennedy said. "We use the balloon as a tool to open up the sinus ostium, then we tease out the bony partitions once they have been fractured."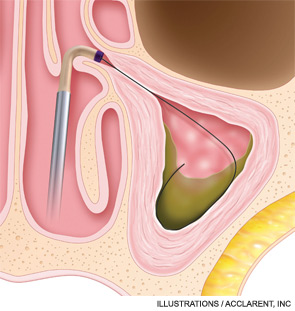 Step 1: A guide wire and balloon catheter are inserted into the inflamed sinus.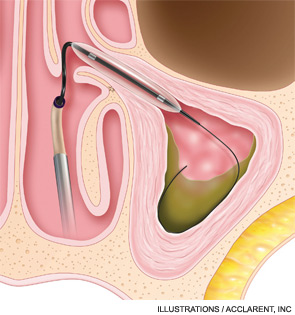 Step 2: The balloon is inflated to expand the sinus opening.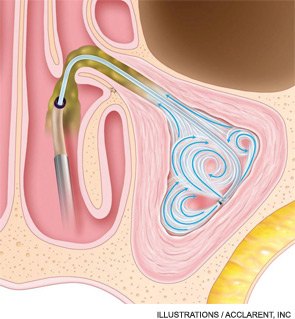 Step 3: Saline is sprayed into the infected sinus cavity to flush out pus and mucus.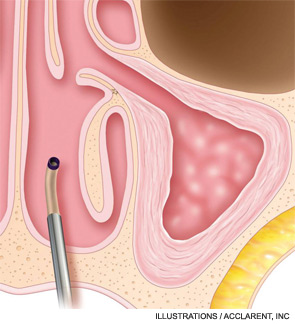 Step 4: The system is removed, leaving the sinuses open.
Pediatric Patients
Balloon sinuplasty is increasingly used in the pediatric population. Hassan Ramadan, MD, professor of otolaryngology at West Virginia University in Morgantown, was one of the first to demonstrate the safety and efficacy of the procedure in children (Ann Otol Rhino Laryngol. 2009;118(3):161-165; Amer J Rhino Allergy. 2010;24(1):e54-56).