Part one of a three-part series exploring issues affecting the otolaryngology workforce.
How do you plan to deal with workforce shortages? If you are like 55 percent of the audience at an interactive mini-seminar held during the October American Academy of Otolaryngology–Head and Neck Surgery (AAO-HNS) Foundation annual meeting, you intend to hire additional otolaryngologists to help with practice overload.
Current projections do not bode well for that strategy, according to workforce experts. "Those of you who want to add an otolaryngologist to your practice are guaranteed not to find one," said Richard A. Cooper, MD, professor of general internal medicine and senior fellow at the Leonard Davis Institute of Health Economics at the University of Pennsylvania School of Medicine in Philadelphia. "There is a looming doctor shortage that will change the way we practice. You're going to have to solve your practice problems another way."
Examining alternative solutions was one major initiative of David W. Kennedy, MD, rhinology professor with the Department of Otorhinolaryngology: Head and Neck Surgery, at the University of Pennsylvania Health System, during his 2008-2009 AAO-HNS presidency. He also organized the AAO-HNS mini-seminar "Physician Workforce in OHNS: What's in Your Future?" ENT Today recently spoke with the panelists and others about possible fixes for the shortage.
Why the Gap?
In the mid-1990s, U.S. policy makers maintained that the nation was facing a physician surplus—and that this would drive up health care spending. Congress, backed up by a "Consensus Statement" endorsed by the American Medical Association and other major medical organizations, opted to freeze graduate medical education (GME) funding. The policy became law when it was written into the Balanced Budget Act of 1997.
Several experts, including Dr. Cooper and Harold C. Pillsbury, MD, Thomas J. Dark Distinguished Professor of Otolaryngology and chair of the Department of Otolaryngology/Head and Neck Surgery at the University of North Carolina School of Medicine in Chapel Hill, have reached different conclusions after reexamining the physician workforce projections on which the Balanced Budget Act was based.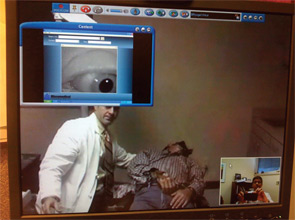 MOISES ARRIAGA, MD
Dr. Arriaga sees telemedicine as one way to close the workforce gap. In this photo, Dr. Arriaga, who was in Pittsburgh at the time the photo was taken, is seen in the lower right corner. The patient's eye is seen in the upper left corner. Dr. Arriaga's otology fellow, Jeff Lacour, MD, stands alongside the patient in Baton Rouge, Louisiana. The patient is being evaluated for positional vertigo.
In 1995, explained Dr. Pillsbury, the managed care industry deemed necessary a target ratio of between 1.8 and 3 otolaryngologists per 100,000 to hold down costs. In 2000, he reassessed 1995 physician workforce statistics from the Bureau of Health Professions (BHP) and found that the ratio of otolaryngologists per 100,000 in 1995 was 2.962, not 3.240 as BHP statistics held. The reason: BHP had included residents in their original estimates. Because the effective numbers of practicing otolaryngologists were lower at the time GME funding was frozen, the profession is now already at the point (2.5/100,000) projected by managed care for 2020.