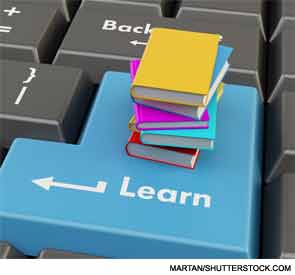 When you're already using the Internet to do research, buy groceries, look for jobs, and do pretty much everything else in your life, why wouldn't you also use it to learn? That's the question some otolaryngologists are asking as they integrate web-based lectures into their teaching plans for medical students, residents, and practicing otolaryngologists.
"I think that as educators, we have to adapt to the learning style of learners and, sometimes, to become better teachers, we have to change the way we teach," said Greg Krempl, MD, the Paul and Ruth Jonas Chair in Cancer in the department of otorhinolaryngology at the University of Oklahoma Health Sciences Center in Oklahoma City.
Beginning in July, the University of Oklahoma College of Medicine will replace all of its in-person lectures with pre-recorded lectures that students can watch from home. Each webinar will end with a quiz that will test students' understanding of the subject matter.
Dr. Krempl said the curriculum change was motivated by two factors: the hiring of a new course director and an acknowledgement by staff that current medical students are more technology driven and less interested in sitting through lectures than past generations.
Have you been getting the same vibe from your students? Dr. Krempl and others offered these tips for getting started with web-based lectures.
Gather Interested Faculty: Kenny Chan, MD oversees a web-based CME program produced by the American Society of Pediatric Otolaryngology (ASPO) and the American Academy of Otolaryngology-Head and Neck Surgery. He became interested in educational webinars in 2010, when he worked with ASPO to create a webinar series "to enrich the educational content of pediatric otolaryngology fellowship programs across North America."
His best piece of advice? Start talking to colleagues. "If there's a dedicated group of people interested in education, particularly in web-based learning, you can pull this off, but if you don't have a group of dedicated people to do this, it'll be very difficult," said Dr. Chan, chief of the department of pediatric otolaryngology at Children's Hospital Colorado in Denver.
Find the Right Platform: Before you start recording anything, find out what platform the videos will be hosted on and what format they should be in, Dr. Krempl said. Christopher Church, MD, residency program director in the department of otolaryngology-head and neck surgery at Loma Linda University in Loma Linda, Calif., helped developed a webinar series for the American Rhinologic Society (ARS) to use with residents. He suggested experimenting with meeting sharing software developed for business purposes, such as Cisco WebEx and Adobe Connect.
Ensure Quality Recordings: Dr. Chan said that when the AAO-HNSF started its webinar series in 2013, it allowed speakers to record at their own institutions using whatever equipment they had available. The result was a hodgepodge of recordings that all looked and sounded differently and presented compatibility issues. Now the society has a dedicated microphone and laptop that it mails to presenters, along with instructions on how to create presentations.
Dr. Chan said it can take about two to three hours to successfully record a webinar. "It's not just about talking; you need to make sure the video feeds and audio feeds work and that you're talking at a volume that people can hear," he said. He tells speakers to first practice recording a few slides before recording the entire presentation, so that they can gauge the video and audio quality of their webinar.
Avoid Live Presentations: Being able to access a lecture at any time and watch it at your convenience is what makes webinars work, Dr. Church said. The ARS has discovered that archiving their lectures for on-demand use has made them more popular with residents, he said.
Think Beyond Your Institution: Dr. Krempl said one of the major benefits to online learning is that it allows institutions to collaborate and share expertise. Want to teach a class about cleft palate but don't have a cleft palate expert on staff? An expert based at another university could easily use a webcam to record a presentation for you to share with your students.
"If institutions are willing to share and collaborate, it can reduce work for everybody and add to a higher quality product," Dr. Krempl said. He said such collaboration can also help medical schools and residency programs standardize curriculums so that students are exposed to all subjects, not just what the faculty members are available to teach.
Provide Follow-Up Materials: Dr. Krempl suggested distributing lecture notes and resource lists so that participants can get additional information on the topic being presented. At the University of Oklahoma, for example, students download PowerPoint presentations in which they take notes as they watch the lectures.
Plan for Updates: The biggest challenge with pre-recorded webinars is keeping them up to date. "It's not as simple as just inserting a new slide," Dr. Krempl said. "If you have new material, you can't just splice that topic into a talk that was recorded over a year ago." He said the University of Oklahoma requires its staff to update the webinars every year, which means all the lectures are recorded again from scratch.
What's next on the educational horizon? The American Board of Otolaryngology is in the process of making its Maintenance of Certification modules available to residents at no charge by the end of the year.
Dr. Church said web-based programs will eventually need to become more interactive. "The millennial generation doesn't find the traditional lecture, [with its] didactic format, as effective for learning," he said. "The future is interactive, electronic-based education—the same learning modules many of us are now required to do for board certification, and the like. That's where the future is at."
---
Stephanie Mackiewicz is a freelance medical writer based in California.