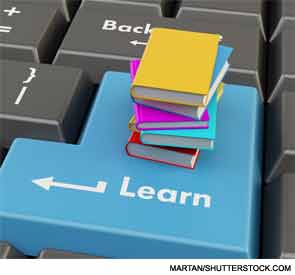 When you're already using the Internet to do research, buy groceries, look for jobs, and do pretty much everything else in your life, why wouldn't you also use it to learn? That's the question some otolaryngologists are asking as they integrate web-based lectures into their teaching plans for medical students, residents, and practicing otolaryngologists.
"I think that as educators, we have to adapt to the learning style of learners and, sometimes, to become better teachers, we have to change the way we teach," said Greg Krempl, MD, the Paul and Ruth Jonas Chair in Cancer in the department of otorhinolaryngology at the University of Oklahoma Health Sciences Center in Oklahoma City.
Beginning in July, the University of Oklahoma College of Medicine will replace all of its in-person lectures with pre-recorded lectures that students can watch from home. Each webinar will end with a quiz that will test students' understanding of the subject matter.
Dr. Krempl said the curriculum change was motivated by two factors: the hiring of a new course director and an acknowledgement by staff that current medical students are more technology driven and less interested in sitting through lectures than past generations.
Have you been getting the same vibe from your students? Dr. Krempl and others offered these tips for getting started with web-based lectures.
Gather Interested Faculty: Kenny Chan, MD oversees a web-based CME program produced by the American Society of Pediatric Otolaryngology (ASPO) and the American Academy of Otolaryngology-Head and Neck Surgery. He became interested in educational webinars in 2010, when he worked with ASPO to create a webinar series "to enrich the educational content of pediatric otolaryngology fellowship programs across North America."
His best piece of advice? Start talking to colleagues. "If there's a dedicated group of people interested in education, particularly in web-based learning, you can pull this off, but if you don't have a group of dedicated people to do this, it'll be very difficult," said Dr. Chan, chief of the department of pediatric otolaryngology at Children's Hospital Colorado in Denver.
Find the Right Platform: Before you start recording anything, find out what platform the videos will be hosted on and what format they should be in, Dr. Krempl said. Christopher Church, MD, residency program director in the department of otolaryngology-head and neck surgery at Loma Linda University in Loma Linda, Calif., helped developed a webinar series for the American Rhinologic Society (ARS) to use with residents. He suggested experimenting with meeting sharing software developed for business purposes, such as Cisco WebEx and Adobe Connect.