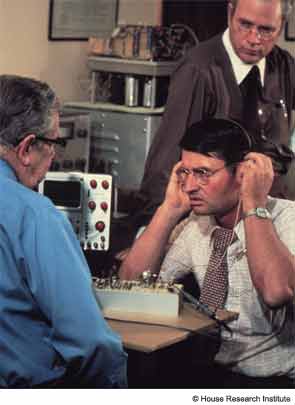 Charles Grasier, one of the first CI patients, undergoing testing at the L.A. Foundation of Otology circa 1974 with William House, MD (rear) and Jack Urban.
Critical Junctures in Cochlear Implant Development
1957—Paris: Eyriès implants Djourno's coils; alternating current transmitted to the coil produces perception of sound.
1960-61—Los Angeles: House and Doyle begin work on prosthesis; effect electrical stimulation during stapes surgery; implant three patients with a single gold electrode.
1964—Palo Alto, Calif.: Simmons, at Stanford, develops a six-electrode system using a percutaneous plug.