Dr. Woodson and her husband, Tom Robbins, MD, an otolaryngologist and director of the Simmons Cancer Institute at Southern Illinois University in Springfield, have been bringing medical students back to the U.S., sponsoring their studies at her teaching hospital in Illinois. Dr. Woodson and Southern Illinois University have hosted three medical students, an otolaryngologist, and two nurses for visits of one or two months. On a typical mission, Dr. Woodson and her team will see about 50 patients on the first day and select patients for surgery for the next four to seven days, with the number of patients varying with the complexity of the surgery. While local physicians provide most of the follow-up, the team will usually see the patients six months later, when they return to Tanzania.
Dr. Woodson said she recognizes the importance of metrics and hopes to be able to do this type of research once the program has graduated out of its early stages. "Metrics would be valuable, because we need to know if what we are doing has a positive impact, and what we could do better," she said. "Outcome data will also be important for raising money if we establish a foundation, and for giving information to other physicians who might be interested in coming here."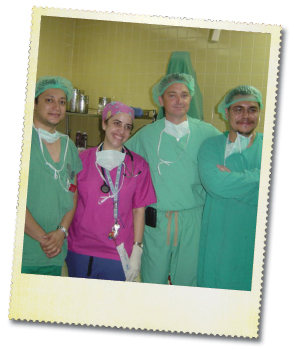 Dr. Horlbeck with residents at the Hospital-Escuela in Tegucigalpa, Honduras
Challenges
One major challenge for physicians attempting to establish metrical results for humanitarian missions is that they vary greatly not only by mission location, but by resources as well, Dr. Saunders said.
"If you try to set up that everyone needs to get 80 percent or 90 percent success, you shouldn't be doing it…It doesn't mean we shouldn't be looking at numbers and success rates, but it's hard to come up with one set of outcome measures and outcome levels that fit all of the different environments we work in," he said.
Dr. Saunders said expectations abroad versus those that must be met within the U.S. differ greatly because standards of care have yet to reach an equivalent plane. "My primary goal in Nicaragua is to get through an operation safely and have a dry ear," he said. "We will try to get them as much hearing restoration as possible, but in the U.S., because our standards are higher, we focus more on hearing reconstruction, because the other things are taken for granted."
Dr. Horlbeck said an increased focus on local training will probably have the greatest effect in the long run. "Ultimately, the goal would be to make yourself obsolete," Dr. Horlbeck said. "You don't want to provide a country their health care if you can teach them how to do it. You can show them what's possible and have them keep it going on their own. That's the goal."