Operation Smile, an organization that provides reconstructive surgery for children and young adults born with cleft lip, cleft palate and other facial deformities, hosted a summit in Norfolk, Va. in September as part of a periodic evaluation of its Global Standards of Care program, an initiative started in 2006 that is aimed at maintaining and implementing the best evidence-based practices on international missions. The summit, according to Ruben Ayala, MD, medical officer of Operation Smile, focused on ways missions can be improved, and how the organization can hold these missions to the highest standards of care.
"There is a sense that if we commit our leaders to meaningful discussions, that is, for everybody to agree to commit to the best possible care that we're going to fill worldwide, then it is a lot easier to execute," Dr. Ayala said. He added that the most tangible measures are post-op results.
"The reality is that you have to look at evidence-based medicine and use it as your benchmark—and do everything in your power to get to that benchmark," he said.
According to the organization's 2010 Annual Report, between July 1, 2008 and June 30, 2009, Operation Smile volunteers travelled to 22 countries, providing free surgical treatment for 12,993 children and young adults, which resulted in 12,993 documented successful surgeries. Public Relations Director Jessica Kraft said that all Operation Smile surgeries are evaluated internally by a medical oversight board, and the group relies on data collected in the field to help it evaluate procedures. Kraft said that while follow-up is encouraged for every patient, there are some mission sites in rural areas where the percentage of patients who return for the 6-month follow-up are low, whereas more populated areas have a follow-up rate of around 70 percent.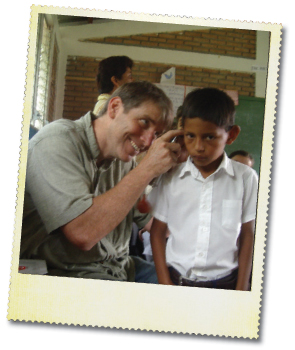 Dr. Saunders conducting a screening for ear pathology and hearing loss among children in second grade in Nicaragua
Drew Horlbeck, MD, director of pediatric otolaryngology at Nemours Children's Clinic in Orlando and Jacksonville, Fla., attends at least one mission each year in South and Central America. While he has been participating in international medical missions for over 20 years, it wasn't until 2009 that he decided to study the results of some of his missions.
"The question was always, 'I want to follow up on who we did last year. [The local doctors] say everybody's great, but are they really doing fine?'" he said.
Dr. Horlbeck and colleagues analyzed data from three otologic surgical missions conducted in Paraguay and Honduras from 2003 to 2006 (Otolaryngol Head Neck Surg. 2009;140(4):559-65). During these missions, surgeons from Wilford Hall Medical Center in San Antonio, Texas aimed to treat chronic ear infection with a single surgery. Researchers reviewed data from 117 patients who underwent tympanoplasty, canal wall up mastoidectomy or canal wall down mastoidectomy. Follow-up records were available for 77 patients. The percentages of patients who experienced success with tympanoplasty, canal wall up and canal wall down were 14 (63.6 percent), 21 (70.0 percent) and 23 (92.0 percent), respectively. The authors concluded that the results fall within those expected in developed nations.