Oral, head and neck cancer screening is critical to early detection-but otolaryngologists often find that they aren't reaching the populations at highest risk for the disease. Consequently, many physicians are taking the initiative to develop novel and creative outreach programs to target people who are likely to regularly use tobacco and alcohol, as well as individuals who do not have ready access to health care.
Screenings Not Targeting High-Risk Populations
One recent study (Laryngoscope 2009;119: 679-82) illustrates how head and neck cancer screenings held in doctors' offices may not reach high-risk populations.
In Baltimore, high-risk neighborhoods are just a stone's throw away from Johns Hopkins, but it is still challenging to capture those residents for screenings, said lead study author Christine Gourin, MD, Associate Professor and Director of the Clinical Research Program in Head and Neck Cancer at Johns Hopkins School of Medicine.
Reasons for this may be cultural distrust of physicians, fatalism about developing cancer, or lack of education about what screening can offer, she explained.
To conduct the study, Dr. Gourin and her colleagues evaluated data collected during a one-day screening of 89 participants in the Department of Otolaryngology-Head and Neck Surgery during Oral, Head and Neck Cancer Awareness Week (OHANCAW), an event promoted by the Head and Neck Cancer Alliance and held every April.
They found that the majority of participants did not fit the typical profile of high-risk patients. Fifty-seven percent of participants were female, and only 29% used tobacco products. Seventy-two percent had attended college or graduate school. Sixty-six percent of participants reported head and neck cancer symptoms; however, only 35% were aware of the association between these symptoms and disease.
Researchers reported no correlation between symptom prevalence and the exam. Eleven percent of participants had suspicious findings for neoplasia and were referred to follow-up care. However, the screenings did not identify any people with cancer, said Dr. Gourin.
We didn't attract typical high-risk profile patients, said Dr. Gourin, adding that many of the people screened worked at the university. This problem isn't just unique to Johns Hopkins. You see it elsewhere.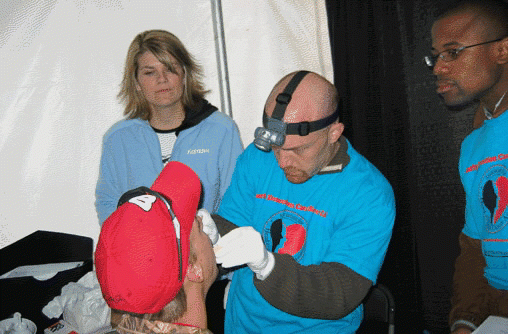 click for large version
Figure. Adam Klein, MD, an otolaryngologist at the Emory Voice Center (center), screens a NASCAR attendee for oral, head and neck cancer, observed by Emory medical student Jonathon Smith (right) and Lori Hamilton (left), widow of Bobby Hamilton, a racecar driver who died of oral cancer in 2007.
Other otolaryngologists tend to agree. For example, the Feist-Weiller Cancer Center at Louisiana State University (LSU) in Shreveport has offered free head and neck cancer screening to the public over the past 12 years during OHANCAW.