Dr. Hopp reported that his office practice has expanded, and his income increased, with addition of the scanner. However, he cautioned physicians to check with major carriers to gauge reimbursement levels, which, he says, are not as high as originally anticipated. Above all, said Dr. Hopp, the in-office CT scanner has helped him change his practice. When there is some reason that I'm not able to use it, all of a sudden I feel like I'm practicing old-school medicine from the 19th century!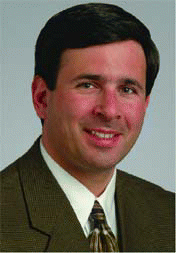 This technology is a three-pronged positive effort. It's wonderful for any otolaryngologist who wants to improve patient care, reduce patient cost, and increase office income.
-Martin L. Hopp, MD, PhD
Reference
Association of Otolaryngology Administrators. An introduction to in-office CT. 2007. Available online at https://plus16.safe-order.net/inhouseradiology//AOA_Booklet.pdf . Last accessed Nov. 6, 2007.
[Context Link]
A Note on Certification and Credentialing
Incorporating point-of-service CT scanners into one's otolaryngology practice raises issues about certification, credentialing, and reimbursement. Third-party payers routinely require precertification of the need for a CT scan before they approve it for reimbursement. Physicians must also be certified to interpret and read scans, a process usually handled through the American Board of Radiology. If the physician wants his or her office to be accredited as a diagnostic laboratory, this requires credentialing, through either the American College of Radiology or the Intersocietal Accreditation Commission. The latter two issues will be addressed in part 2 of this article.
©2008 The Triological Society