PHILADELPHIA-It is generally accepted that foreign microbial antigens drive the inflammation in chronic rhinosinusitis. Which antigens are responsible, though, is not certain. But researchers are trying to find out.
At Rhinology World 2009, two experts in the field debated the causes of the disease and discussed the prospect of homing on better treatments. But even as they did so, they acknowledged that the way the patient reacts to the antigens ultimately causes the problem.
Jens Ponikau, MD, Assistant Professor of Clinical Otolaryngology at the State University of New York-Buffalo, pointed to eosinophils in making his case that fungi are at the heart of chronic rhinosinusitis, a group of disorders involving inflammation of the mucus of the nose and paranasal sinuses, lasting at least 12 weeks.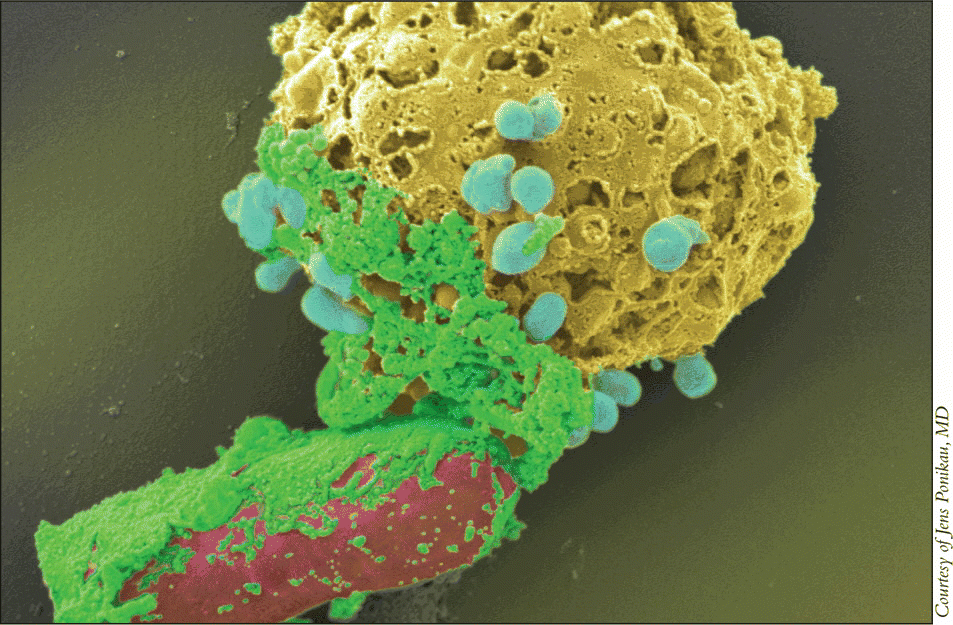 click for large version
Figure. An eosinophil (yellow) degranulates on a piece of fungus (red) and attacks it by smearing its toxic protein (major basic protein, green) onto the fungus.
Robert Kern, MD, Professor and Chairman of the Department of Otolaryngology-Head and Neck Surgery at the Northwestern University Feinberg School of Medicine in Chicago, argued that the evidence pointing to fungi as the main instigators is thin.
Eosinophils Provide Evidence for Fungi
Dr. Ponikau's research has shown how eosinophils, which are the main inflammatory agent, attack fungi in patients with CRS. He also pointed out studies showing positive results from antifungal medications in combating the disease.
In a video, he showed eosinosphils tearing apart fungal germinating spores when they were stimulated with a signal coming from the lymphocytes of CRS patients. You can nicely see how the eosinophils start to target the fungi, he said. You can see they don't bother about the hyphae [the mature segment]. They're going after the germinating spores [which secrete the antigen].
When lymphocytes from healthy controls were used, the eosinophils didn't get the attack signal and did not react the same way. The eosinophils kind of sniff on there a little bit…and walk away again, Dr. Ponikau said. No attack.
He added, Believe it or not, this became the difference between a patient who had CRS and a healthy person.
Dr. Ponikau's research has shown that the production by patients' lymphocytes of interleukin (IL)-5, a key cytokine that activates and prolongs the life of eosinophils, is instigated by the presence of the fungus Alternaria. The same is true with the cytokine IL-13, which is key to recruiting the eosinophils to the sinus tissue. The key was that only patients with CRS were reacting, but healthy controls did not react to the fungi by producing these, he said.