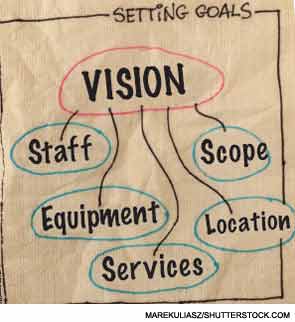 When Albert Merati, MD, arrived as a laryngologist six years ago at the University of Washington School of Medicine in Seattle, his job was simple: Build up a practice by filling it with patients.
So he got out a piece of paper and wrote that down.
"The first step is very clear: Sit down with a piece of paper and write out your mission," said Dr. Merati, chief of laryngology at UW's department of otolaryngology–head and neck surgery. "Write out your goals and have a plan. There is no substitute for that."
Otolaryngologists and a management consultant interviewed by ENTtoday agree that the key to setting up and running an otolaryngology practice is preparation. Budding otolaryngology entrepreneurs need to plan the scope of the practice, its staffing choices, its equipment purchases, and many other details as big as which electronic health record (EHR) system to use and as small as clauses in the office space lease agreement.
But it all starts with setting up a vision for the practice, said practice consultant Cheyenne Brinson, MBA, CPA, of KarenZupko and Associates (KZA) in Chicago."You don't know where you're going if you don't have a plan," said Brinson. "Understanding where you want to go helps drive other decisions."
Dr. Merati said that setting goals is his guiding philosophy each time he takes a new job to build up a practice's patient load. "It's not even patient specific," he said. "It's about fulfilling your personal and professional goals. If your goal is, 'I want to be the best sinus surgeon in central Missouri, and I want to take care of patients with tough problems and make a difference in my community,' then that's what you write down. And then everything you do, every decision you make for your practice, should be mission driven. Step one for achieving a practice is [to] know what your goal is."
Define Your Scope of Service
Steps two and beyond require additional planning in both the short and long term, said Brinson. Of course, it can be tricky to balance the up-front needs of a new practice against those that can arise if that business succeeds as planned. But Brinson, an instructor for KZA's national coding and reimbursement workshops sponsored by the American Academy of Orthopaedic Surgeons (AAOS) and the American Academy of Otolaryngology-Head and Neck Surgery (AAO-HNS), said keeping an eye on each goal simultaneously is important. "Focus on the short term, but keep the long-term goals in mind for the practice," she said. "It's a difficult balancing act to be sure."