Implementing electronic health records (EHRs) for all 633,000 physicians and 5708 hospitals in the United States is a daunting task, and one that is being nudged forward by Team Obama's $19 billion stimulus plan earmarked to help health care providers to switch to EHRs. But a March New England Journal of Medicine study by Jonathan Oberlander, PhD, and John Halamka, MD, MS, showed that only 1.5% of hospital records are fully computerized, and only 7.6% of hospitals have a basic EHR system. The low numbers reflect skepticism among physicians, health care administrators, and IT professionals about the feasibility and costs of widespread implementation of computerized patient records that are accessible, with privacy safeguards, throughout the medical system. ENT Today's reports from the field reflect a mixed and interesting picture of EHR adoption thus far, and what the future may hold.
Experienced Otolaryngologists
Jeffrey LeBenger, MD, a board-certified otolaryngologist and Chairman of the Board of Summit Medical Group (SMG) of Berkeley Heights, NJ, has been instrumental in a three-year modular EHR implementation. SMG is a multispecialty group of 140 providers that has 1200 daily patient visits in its main 250,000-square-foot facility and five satellite offices. The EHR cost us a fortune and added a burden on our overhead structure, but it has been worth it, said Dr. LeBenger.
Starting in 2004, SMG's EHR effort involved countless hours of physician, IT, and administrative work vetting vendors and writing a strategic IT plan. Once we settled on a system, we started the EHR with patient charts and notes. With lots of physicians, it's like herding cats, and there were differences between young, tech-savvy doctors and the old-timers with 25 years of paper charting. We finally got everyone to the point where all notes were on the EHR, Dr. LeBenger explained.
With an IT department of 25, SMG scanned and archived-in a 100,000-square-foot storage facility-all patient charts dating from 1998, including notes, test and lab results, and surgery and consult reports. The EHR is also interoperable with Atlantic Health's Morristown Medical Hospital, an essential and innovative collaboration that has, according to Dr. LeBenger, increased efficiency by 20% and facilitated the flow of all lab results, radiology, imaging, audiology, rehab notes, and other information.
SMG's most recent addition to its EHR has been automating prescriptions, which go to the on-site pharmacy and can be picked up on the patient's way out. It saves us time, reduces errors, is automatic, searches for drug-drug interactions and the patients love it, Dr LeBenger added. When asked about the government's plan for widespread EHR implementation, Dr. LeBenger summed up: They have no clue how expensive and time-consuming this is for medical groups. It can easily cost in the millions for a group.
For Marc Hamburger, MD, an otolaryngologist at ENTAA Care, a 12-provider group with six offices in Maryland, a five-year, $500,000 investment in hardware, software, and training to implement EHR from Sage was expensive, but worth it. We started from scratch to improve the practice's business side and then decided to integrate the patient record portion as well, he explained.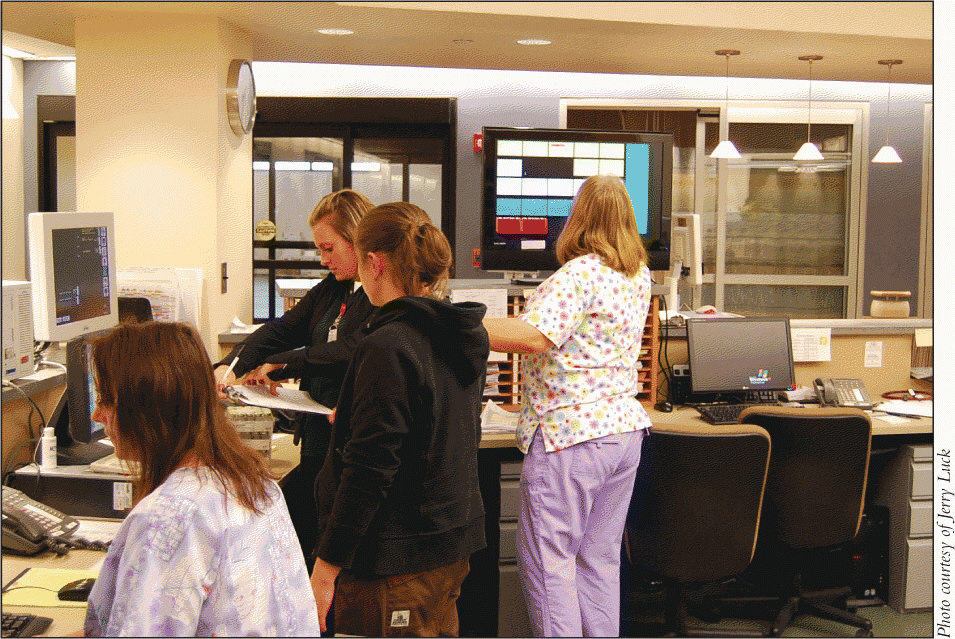 click for large version
Figure. A busy medical center uses the Open Vista platform for its electronic health records.
Some advantages of the move were obvious: easier billing, better patient care, and management of call from home. There were difficulties as well, however. The switch was painful, especially to the doctors who were 25 years out of school, but we didn't give people a choice. We all had to jump off the cliff together if this was going to work, he said. Today, all the providers use wireless laptops, which are convenient to carry between exam rooms and offices. The EHR has automated scheduling, notes, test and lab results, and more. Although the group would like to have interoperability between its EHR and electronic records with its two local hospitals, neither hospital has an EHR, so ENTAA Care has to input labs results and radiological studies from the hospitals on its own system.
Regarding the systems' cost, Dr. Hamburger said that a significant part of the expense was a small number of providers practicing in six offices that had to be connected via high-speed cable. He added that physicians practicing in ones and twos might have an easier time, implementing an EHR, purchasing systems for $20,000 to $40,000 or so. But that doesn't cover the countless hours and endless patience required to sort through more than 300 EHR vendors. Specialists, including otolaryngologists, have an edge because this is expensive. For primary care docs with less money to invest in IT, it could be a stretch, he added. As for the government's incentives, its 2% bonus for Medicare may help, but the ongoing maintenance, licensing, and consulting costs far outweigh any existing or proposed government reimbursement.
Hospitals
It is difficult, expensive, and chaotic for hospitals to make the transition from paper to fully electronic health records. Team Obama's $19 billion carrot to hospitals and physician groups to beef up health care IT may speed things along, but the estimated $20 to $100 million price tag per installation has kept EHR adoption in hospitals below 10%.
Flagler Hospital of St. Petersburg, FL, for one, replaced patient charts with mobile laptops, computers on wheels (COWs, although the name might offend overweight patients), that allowed doctors in 30 specialties to chart at the bedside using one software program. An unintended consequence, though, was that doctors had to keep two sets of medical records, one in the hospital and the other in their offices, because the hospital EHR couldn't talk to the office practice EHR. So they still have to fax patient records, test results, and images between hospitals and physician offices.
Children's National Medical Center in Washington, DC, solved that problem by selling site licenses to its physician groups for $6000 per computer, versus the retail cost of $20,000. Giving physicians incentives to use a shared hospital-physician group EHR has made lab results immediately available, and enabled doctors to read consultants' comments on their patients. This has strengthened the link between the hospital and its attending doctors.
For Jerry Luck, Director of Facilities System Administration for West Virginia's Department of Health and Human Services, the bargain-basement price tag of $9 million for an EHR implementation for West Virginia's eight state-owned hospitals and nursing homes compared favorably to the $90 million spent by the West Virginia University Hospital system. He started looking for a new electronic medical record system in 2005 because the old system, with proprietary software and lots of consulting dollars spent to keep it going, was going to be discontinued.
With one IT person in each facility, the organization needed a system that would provide all necessary functionalities but be cost-effective and easy to maintain. Mr. Luck opted for a system based on the Veterans Affairs' well-established VistA EHR, an open source software with more than 20 years of field testing and refinement. VistA contained 2.1 billion documents, 2.76 billion orders, and 1.51 billion images, making it most unlikely to disappear. He chose Medsphere's Open Vista as the platform for the EHR for his system's eight facilities. We saw demos of the EHR at the VA hospital, so we knew its modules and functionalities addressed all of our needs. That included all the vital sign recording, tests, diagnostics, prescriptions, and physician notes, he said. There are no more paper notes. Physicians and other providers use laptops or COWs, except at the psychiatric facilities, where the COWs could be used as weapons.
Because the VistA EHR was implemented throughout all of the West Virginia Department of Health's facilities, physicians didn't have a paper chart option anymore. Everything had to be on the computer system, and the doctors had to do their own data entry. It was hard for some of the older docs who didn't grow up using computers, but some medical students who had been at the VA and were very familiar with the system sold it to the laggards. Also, when they realized they could access patient vitals while relaxing in the physicians' lounge, they got to like it, said Mr. Luck. Although all the facilities are connected, HIPAA and privacy concerns meant that access to each patient's record must be guarded. He explained, That was no problem. We set up one database, then partitioned it out. So, for example, if the patient is moved from the hospital to a long-term care facility, each facility allows access to the record only once the patient is admitted.
Although Mr. Luck's installation went fairly smoothly and on budget, most other EHR implementations are immensely costly, particularly for physicians, who don't have the deep pockets that hospitals and hospital systems have. Furthermore, the sheer number of physicians and hospitals and the vast cadre of EHR vendors competing for their business can lead to huge problems of cost and system compatibility. The government's enticement-$44,000 over five years if they implement a meaningful EHR by 2011-may prove underwhelming. To overcome the cost of implementation for physicians, it seems likely that product champions-either state, regional, or hospital systems-will have to provide the upfront costs to make this happen.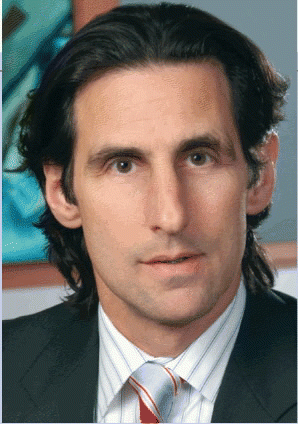 The government has no clue how expensive and time-consuming this is for medical groups. It can easily cost in the millions for a group.
-Jeffrey LeBenger, MD
Physician Adoption of EHRs
A June 18, 2008 NEJM article reporting on a survey of 2758 physicians on their EHR implementation showed that:
4% of MDs had a fully functional HER system; 13% had a basic system.
Primary care physicians; those practicing in large groups, in hospitals or medical centers; and those in the western region of the US were most likely to use EHRs.
Financial barriers were the greatest impediment to implementing EHRs.
Physicians reported positive effects of these systems on several dimensions of quality of care and high levels of satisfaction.
©2009 The Triological Society