Dr. Robertson led a study on the diagnosis and treatment of baroreflex failure based on Dr. Netterville's patients that ran in the New England Journal of Medicine (1993;329(20):1449-1455). Dr. Netterville is an author on the study, and the experience led him to specialize in the management of carotid body tumors.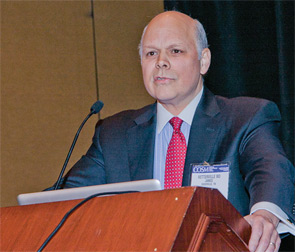 "These are very slow growing tumors that we can choose to observe for long periods of time."
—James Netterville, MD
Observational Lessons
Dr. Netterville has followed 43 patients for five years and admitted that this is too short a time for definitive results, especially in patients who were merely observed.
After five years, 42 percent had no change in tumor size, 38 percent had an increase in size of 2 mm per year and went on to resection, and some were found to have had small regressions in tumor size, though that could have been caused by irregularities stemming from how the scans were read.
Dr. Netterville noted the huge change in the approach to carotid body tumors from then to now. "When I started this, a paraganglioma was an evil, mean, bloody tumor latched on the carotid artery that has to come out tomorrow before it leads to death or causes a stroke," he said. "But what do we really know? These are not urgent procedures at all. These are very slowly growing tumors that we can choose to observe for long periods of time…. Eventually you might operate on it. Maybe they won't need it."
In some cases, though, removal is the only good option, he said, noting the case of a man for whom no resection was done and who nearly died from amyloidosis.
For all the knowledge he gained through the years, Dr. Netterville still heard complaints about that pain that patients were having when they took their first bites of food. It was described as "spasm-like" in the area of the parotid glands after the first bite of a meal, with the severity increasing with the interval between oral intakes and the potency of the salivary stimulus.
Finally, Dr. Netterville saw a 13-year-old who'd been playing with his father's pistol and suffered a gunshot wound to the right maxillary sinus. The internal carotid artery was occluded at the entry to the skull. He also had Horner's syndrome.
It was decided that the bullet didn't need to be removed. Six months later, he came back with apparently no new problems—except, after a 20-minute conversation, his mother mentioned her son having pain at the first bite of a meal.