History of the Cochlear Implant
In 1978, Richard T. Miyamoto, MD, received a phone call from his former mentor, William F. House, MD. Dr. Miyamoto had just completed his fellowship in neurotology and had moved to Indiana University's Riley Hospital for Children as an assistant professor. Dr. House was calling to ask his former trainee to join a new multi-center clinical trial of cochlear implants. Dr. Miyamoto immediately agreed to join the study and traveled with his first patient to House Ear Institute (HEI) to complete the surgery. "I was the youngest co-investigator in that group," Dr. Miyamoto said. "Most of the experts in hearing science were very down on implants in those early days. They felt that success was unobtainable. But there wasn't any treatment for sensorineural deafness at the time and, during my fellowship at House Ear Institute, I had seen that this technology was life changing for patients."
The results of that trial, concluding that CIs were beneficial to patients, helped dispel some of the controversy sparked in the scientific community. By 1984, the U.S. Food and Drug Administration had approved the 3M/House single-channel cochlear implant. Many, including Dr. Miyamoto and John W. House, MD, president of House Research Institute and clinical professor in the department of otolaryngology at the University of Southern California, credit the late William House as the father of neurotology and as instrumental in the development and acceptance of cochlear implants. Dr. House died on December 7, 2012, at the age of 89 at his home in Aurora, Ore. "We are all grateful for his pioneering work, and he will be missed," said Dr. John House, who is also Dr. William House's nephew.
Since 1984, cochlear implant technology has followed a fairly rapid trajectory, fed by advancements from investigators around the world. By 2010, according to the FDA, more than 219,000 patients worldwide had received cochlear implants. In the U.S., where Advanced Bionics, Cochlear Americas and MED-EL devices are FDA approved, that figure stands at 42,600—28,400 of these implanted in children.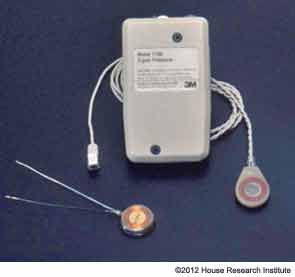 The 3M/House Cochlear Implant, approved by the FDA in 1984 for use in adults.
"Like Boiling Soup"
The roots of cochlear implant technology go back more than 200 years, said Dr. John House. In the 1790s, Alessandro Volta, who developed the electric battery, placed metal probes into his own ears and connected them to a 50-volt circuit. Upon switching on the flow of current, he experienced a jolt but, more importantly for auditory science, he also heard a noise, which he noted was akin to the sound of boiling soup.