In Rapid Succession
After the FDA's first approval of the single-channel implant for adults, others quickly followed: The multiple-channel implant was approved for adults in 1987, and a multiple-channel implant was approved for children in 1990. The initial age for children was 2 years, then 18 months in 1998 and 12 months in 2000.
Dr. Shannon noted that the improvements in CI performance in the 1990s were due to advances in understanding brain processing. "Although implants worked well in the 1980s, improvements came when we 'got out of the way' and stopped 'pre-processing' the signal to pull out the important parts and presented the raw speech signals to the multiple electrodes. The brain, trained over millions of words over a lifetime, is far better at picking out the most important parts of the signal."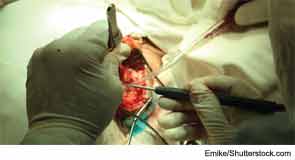 By 2010, more than 219,000 patients worldwide had received cochlear implants.
The Future Looks Bright
As manufacturers' devices become more and more sophisticated (for example, the waterproof Neptune processor manufactured by Advanced Bionics allows users to go swimming), investigators continue to push the boundaries. Current thrusts of research include implantation in very young infants, timing of bilateral implantation, preservation of residual hearing structures and stem cell research. Dr. Miyamoto's laboratory has just received approval from the FDA to study CIs in infants aged six months to 1 year. In many European countries, especially in Italy, investigators are placing implants in infants as young as three months (See "Cochlear Implants: How Young is Too Young?").
Currently, the FDA allows implantation in infants at 1 year, but what we now know about brain plasticity in developing infants has led some researchers to conclude that earlier implantation results in better outcomes for children. The six-center
Childhood Development after Cochlear Implantation (CDaCI) Study, led by John Niparko, MD, at Johns Hopkins School of Medicine in Baltimore, was initiated in 2002 to systematically evaluate early cochlear implant outcomes in children. "We were trying to empower families with the strength of prediction and wanted them to know the realistic expectations of withholding cochlear implants until age 3," said Dr. Niparko. Between 2002 and 2004, investigators enrolled 188 children with profound sensorineural hearing loss who underwent CI implantation, and 97 children with normal hearing.
Extensive baseline assessments and thorough follow-up as the children age are yielding not only observations about language acquisition but also valuable insight into the effects of environmental factors on CI outcomes (JAMA. 2010;303:1498-1506). This is especially important, said Drew Horlbeck, MD, of the division of otolaryngology at Nemours Children's Clinic in Jacksonville, Fla., because the "real work" starts after placement and programming of the implant. "The important thing with an implant isn't so much the surgery," he said, "but the rehab afterwards." The CDaCI investigators are finding, for instance, that higher socioeconomic status and higher parent-child interactions are associated with greater rates of improvement in comprehension and expression, said Dr. Niparko. Dr. Horlbeck, who trained with Dr. Niparko and has been doing implants since 1999, noted that the comprehensive rehabilitation team at Nemours contributes to the overall success of the program.