Photoangiolytic laser procedures largely include excision of benign tumors, namely laryngeal papilloma caused by human papillomavirus (HPV) and dysplasia, said Michael Johns III, MD, Director of the Emory Voice Center and Chief of Otolaryngology at the Emory Crawford Long Hospital and Assistant Professor of Otolaryngology at Emory University School of Medicine.
Dysplasia usually occurs diffusely in the larynx and frequently recurs, said Dr. Johns. Consequently, otolaryngologists will need to perform frequent biopsies and follow these with serial endoscopies. With photoangiolytic laser treatments, patients can undergo multiple treatments without general anesthesia and no significant health risk, he explained. Moreover, targeting the lesion's vascular supply with the laser allows the physician to treat more tissue than with a resection, added Dr. Johns.
Papillomatosis is a recurrent problem for which the traditional approach was direct laryngoscopy and excision in the operating room, continued Dr. Johns. We'd have to wait until the disease was advanced, which could cause large fluctuations in the patient's voice and quality of life, he said. With lasers, physicians can treat the disease more frequently to keep it at bay and limit wide voice fluctuations, he explained.
Although physicians used to put patients under general anesthesia in the operating room for these conditions, now we treat in them in the office under local anesthesia in 20 to 30 minutes, said Dr. Zeitels, who, with his colleagues, performed the first office-based laser procedure to treat laryngeal disease in the fall of 2001 using a pulsed-dye laser (PDL). Dr. Zeitels has received free lasers on which to conduct research, but has not accepted funding from manufacturers.
Types of Lasers
Dr. Zeitels noted that both the 585-nm PDL and the 532-nm pulsed potassium-titanyl-phosphate (KTP) are commonly used for vocal cord lesions.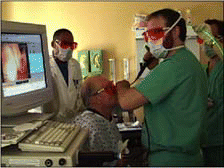 click for large version
Figure. For patients who are truly reluctant to undergo general anesthesia for microlaryngoscopic polyp removal in the operating room, office-based treatment with the pulsed-KTP laser provides a viable, albeit nonoptimal, option. Steven Zeitels, MD
A 2004 study, conducted by Dr. Zeitels and his colleagues,1 found that the PDL was an effective treatment for benign lesions. However, although PDL is effective, the KTP technology is superior, he said.
Most important, the hemostasis provided by the KTP laser is substantially more effective.2-6
Unlike the KTP, the PDL frequently causes bleeding during the procedure due to the technology's short pulse width, which can cause blood within the vessel wall to heat eccentrically and too quickly, causing it to rupture, explained Dr. Zeitels. The KTP laser, with its adjustable extended pulse width, is less likely to rupture vessel walls.