The extended pulse width also allows for more efficient intravascular coagulation, which results in a significantly more precise and effective surgical procedure, he said.3-6
Additionally, bleeding will inhibit visualization of the treatment area and can cause the patient to cough, both of which can limit the effectiveness of the procedure, noted Dr. Zeitels. Free blood will also absorb the laser energy instead of the targeted diseased tissue.2,4-6
Lasers continue to evolve with increasingly smaller fibers, said Dr. Zeitels. Of particular importance, he noted, is that the smaller glass fibers used in the KTP laser (≃0.3 mm and 0.4 mm) have an advantage over PDL (0.6 mm) because the smaller fibers allow for significantly more suction capability through the working channel of the flexible laryngoscope.2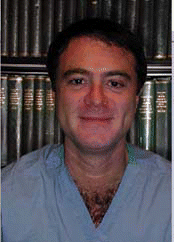 Figure. Office-based green-light pulsed-KTP laser surgery of vocal cords. Note that the green-light laser energy is transmitted through a 0.3-mm glass fiber into the flexible laryngoscope to reach the patient's vocal cords. Courtesy of Steven Zeitels, MD
Other Laser Applications
Lasers can be used to treat polyps in the office, said Dr. Zeitels. However, these lesions are not diseases that are biologically predisposed to recurrence, requiring multiple general anesthesia, as with papillomatosis and dysplasia, he said.
Patients who need surgical treatment of vocal polyps are usually younger so that general anesthesia is not an issue, added Dr. Zeitels. Furthermore, the metric for success in treating vocal polyps since the origin of office-based mirror-guided endolaryngeal surgery in the 1800s is that the polyp is completely removed, he explained.
Leaving portions of the fibrovascular lesion for the convenience of office-based management predisposes the patient to repeated phonotraumatic injury, which would be considered by most physicians to constitute failed surgical management, said Dr. Zeitels.
Finally, said Dr. Zeitels, microlaryngoscopic subepithelial resection of benign lesions of the superficial lamina propria-for example, nodules, hemorrhagic polyps, and cysts-has long been demonstrated to provide the optimal postoperative pliability of the phonatory mucosa, which translates to voice quality.7-9
However, for patients who are truly reluctant to undergo general anesthesia for microlaryngoscopic polyp removal in the operating room, office-based treatment with the pulsed-KTP laser provides a viable, albeit nonoptimal, option, said Dr. Zeitels.
Photoangiolytic laser treatment of carcinoma in situ and early invasive glottic cancers may be a future potential modality, said Dr. Johns. We're continuing to take a disease that is treated with radiation therapy and saving it for recurrences and more advanced disease, he said.