Dr. Courey noted the difference between application of a laser for a tenth of a second and pulsing them.
A wavelength for a tenth of a second with a CO2 laser results in thermal injury that's 200 microns deep; for the KTP laser, it's 700 microns. Pulsed, however, the thermal injury is reduced to 25 microns for CO2 and 200 microns for the KTP.
Movement of the laser is also critical in carefully controlling the amount of time the laser comes into contact with its target tissue.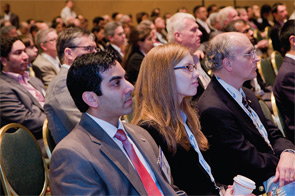 Ideal Durations
Dr. Courey showed theoretical parameters for tissue interaction with a CO2 laser using a micromanipulator and a computer to apply the laser. The result was "relatively minimal heat dispersion in the rest of the tissue." The disadvantages are that general anesthesia is required and that skill is needed to get a line of sight with the instrumentation.
For the pulsed-dye laser, 450 microseconds was the chosen pulse duration, but that can potentially rupture vessel walls due to inadvertent heat transfer to the vessel wall cells, which do not contain the chromophore targeted by the PDL. Vessel wall rupture allows blood products to leak into the tissue outside the vessel.
Because of difficulty with vessel wall rupture, surgeons are starting to use the KTP laser, which is an Nd:Yag laser with double the frequency and with pulse durations between 1 to 100 milliseconds. This helps to reduce the vessel wall rupture seen with the PDL. "We need, as surgeons, to be aware of the actual depth of the non-specific heat diffusion that occurs in all forms of laser injury," Dr. Courey said.
Continuing Education
Session moderator Albert Merati, MD, chief of laryngology Service in the department of otolaryngology-head and neck surgery at the University of Washington Medical Center, said surgeons need to stay up on the details of the technology.
"There's no substitute for staying up to date on the basic principles of laser tissue interaction," he said. "It's okay to know how it worked for you every day for the last two years, but we are all better off knowing what the fundamentals are."
Technology always comes with some drawbacks, he said. "Any surgeons using any tool carelessly or in an uninformed manner probably cause more damage than they should," he added. "I would say none of that's unique to the laser."