Dr. Bauman and her colleagues obtained IRB approval to initiate a prospective, randomized study comparing the efficacy of propanolol and prednisolone in treating symptomatic infantile hemangiomas.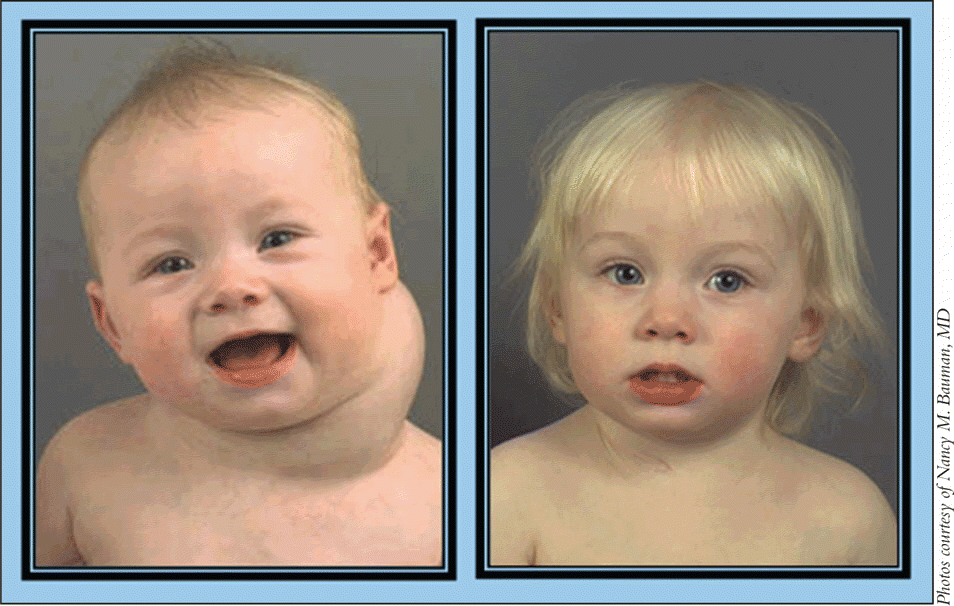 click for large version
Figure. Baby with massive lymphatic malformation on the neck (left); postoperatively, after treatment with OK-432 (right).
Propranolol appears to be well tolerated and may have fewer side effects than prednisolone therapy, but whether it is as effective as high-dose steroids is still unclear, said Dr. Bauman. What is clear, however, is how difficult it is to organize a prospective study and to randomize patients while controlling for size and site of lesions and age at which therapy is initiated, she added.
Propranolol can interfere with glycogenolysis, which is the normal physiologic response to fasting, noted Dr. Bauman. Obstruction of glycogenolysis in a nonfeeding infant can cause hypoglycemia that can be severe enough to induce seizures, added Dr. Bauman. It is therefore important that infants are fed on a regular schedule and that their blood sugars be carefully monitored if they develop vomiting or diarrhea while on propranolol.
In addition to assessing the clinical response to the medications, Dr. Bauman and her colleague, Diego Preciado, MD, will be collecting urine specimens before, during, and after treatment to perform metabolomics to assess protein metabolite expression that may help identify predictors of response to propanolol and prednisolone. They also will perform microarray gene chip analysis on hemangiomas to better understand why some tumors respond to therapy and others do not.
Much has been learned about hemangiomas, particularly through the outstanding contributions of the vascular anomalies team at Boston Children's Hospital, said Dr. Bauman. We hope to further our understanding of this congenital anomaly that can cause severe problems for many infants, she added.
Lymphatic Malformations
Compared with hemangiomas, LMs are rare, noted Joseph Kerschner, MD, Professor and Chair of Pediatric Otolaryngology at Medical College of Wisconsin. We are a major regional referral center in the Midwest, and we only see about 30 to 40 new cases of LMs a year, he said.
Overall, about two or three cases of LMs occur per 100,000 hospital admissions, said Mark Smith, MD, Director of Pediatric Otolaryngology at Children's Hospital at Dartmouth, Dartmouth-Hitchcock Medical Center. Larger medical centers with multidisciplinary vascular anomalies clinics will naturally see more, he said.
These lesions, which are developmental anomalies of the lymphatic system, can be further described as macrocystic, microcystic, or mixed macrocystic-microcystic, and are most commonly seen in the head and neck of children, said Dr. Smith. Macrocystic lesions contain spaces filled with at least 2 cc of lymphatic fluid, he explained. Microcystic lesions contain multiple, smaller collections of fluid, and mixed lesions contain fluid collections of both types.